Future chewing gum magnate William Wrigley didn't invent chewing gum. In fact he stumbled upon it. But when he decided to make it his business focus he created attention getting packaging (think your logo), then he got the product at point of sale – next to cash registers in candy shops, retail stores and train stations. Then he flooded his local market with advertising when no one else was doing it. When he decided to grow into other markets he used the same strategy. In fact, he erected 117 billboards along the 90 mile train line from Atlantic City to Trenton, NJ. Riders saw ad after ad for Wrigley's gum and guess what they had on their mind when they got to the station.
Using the strategy he grew his business 30x over the course of just a few years.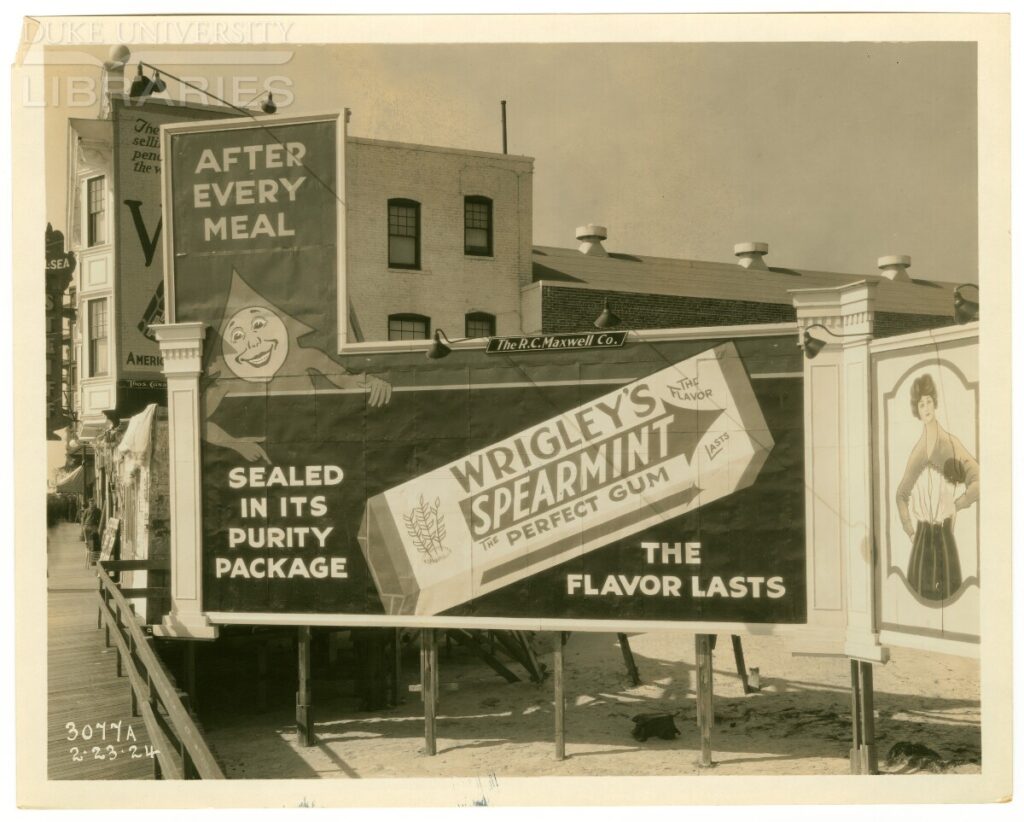 Whether you're running Wrigley's Chewing Gum, Joe's Plumbing, a retail store or a restaurant – your logo, the design of your website, your ads and your signage all help to define your business, help you stand out from your competition and remain in your customer's mind.
These days your customers have access to just about every product there is, so creativity is now considered a necessity in marketing as customers become harder and harder to impress. Graphic Design plays a huge role in today's marketing world. And every type of small business can benefit from it.
But the role of graphic design is not to make your business look "pretty". It's purpose is to SOLVE PROBLEMS, be it finding new customers or increasing sales. Graphic Design helps make you memorable, credible & unique.
Here 10 reasons why your small business needs graphic design. It builds:
1. Brand Identity
Your brand is who you are as a business and how you want to be viewed by the public.
Brand identity is the visual representation of your brand. It includes your logo, the colors, the fonts, graphic images and so much more.
Because it's a visual you, a well designed brand identity can only be achieved through graphic design.
2. Brand Awareness
How much or how well does your customers recognize your brand? How aware are they of you?
Brand awareness will greatly impact their purchasing decisions and could make them stick to your brand. Graphic design can apply different design looks to your brand identity to make it more recognizable and memorable to your customers.
3. Brand Personality
What is your story? Does the customer know it? What do they think of when they see your name?
Putting artistic elements in your brand identity through custom graphic design can elevate the consumers' perception of your product.
You can transform your brand from a boring and generic name on a piece of paper to something that is friendlier, or funnier, or more professional . . . something that your customers will connect with. And this connection will give you an edge over your competitors!
4. Trustworthy
What is your relationship with your customers? What is your "credibility factor"?
Having a reliable and consistent brand image will make customers trust your business more, making way for new customer relationships. Building customer relationships and keeping them engaged are great ways to develop their brand loyalty.
5. Memorable
First impressions last, especially in small businesses. How do you make a great first impression?
The face to face with the customer is on you and how you conduct your good business. But often times the first impression is the visual – when they see your sign, your logo in your ad or on your company vehicle.
Coming up with brand identity is like dressing up to look presentable to consumers. Since graphic design solves problems through proper visual communication, great use of it will leave a great impression on consumers and convert them to your own devoted customers.
6. Credibility
Credibility comes, in part, with consistency.
Applying great use of graphic design can make your business look like an expert in the field and make it look more reliable–even if you're a new business.
Graphic design solves problems in visual communication through clarity in arranging essential information so that they're easier to understand. It also show that you put great attention in communicating with your customers, reflecting to your customers that you also put great attention to your products and/or services.
7. Unique
What sets you apart from your competition?
Because brand identity is how you present yourself to consumers, you don't want to look like every other brand and be an average joe.
Graphic design will help you stand out because having a good foundation in graphic design will give you a trained eye on differentiating your brand from your competitors. It could be change in color, coming up with a distinct logo, using different art styles, and so on.
8. Customer Loyalty
Customer engagement is important because it's a way to get customer retention. Visual elements in the graphic design make customers interact with your brand more because it ensures that your brand catches their attention.
9. Your Target Market
Graphic design can adjust depending on the desired target market of your business.
You can make it look more neutral or generic to appeal to more people, broadening the scope of your target market. Or you can make it look more distinct to appeal to specific people instead, narrowing its scope.
Need help identifying your target market? wbrentprice design & marketing can help with that too!
10. The Great Persuader
Since people's perception of visual design can often be subjective, it can subtly manipulate consumer's emotions, tell them what to do, etc. Graphic design can communicate to your customers in a way that will make them pick your brand over a competitor through eye-catching imagery.
William Wrigley combined great design with an entrepreneurial attitude to be memorable, credible and unique. A 2005 study by The Design Council found that businesses that place more effort on their design actually outperformed business that didn't: by 200%. So it's worth making that investment in graphic design for your small business because you'll see returns in the end.
Graphic design can help your business in many ways: it helps set the tone for your brand, introduce it to a new market, make it reach more customers, build relationships with them, and persuade them to take action.
But as a small business owner, you probably already have a lot on your plate. Let me assist you in creating professional graphic design that will boost your brand's marketing efforts. Call or email me today at [email protected]